Deltarune Fun Mode (A Deltarune Mod Compilation)
[NEW!] Deltarune Fun Mode: Chaos Edition!
(https://agentalex9.itch.io/deltarune-fun-mode-chaos-edition)
Make sure to check this one out! No installation or modding to get this mod compilation working!


Let the FUN begin...
How modifiable is Deltarune? Very modifiable. How many mods can you cram into Deltarune? A lot.
Anyway, here's a compilation of mods I made for Deltarune! Which includes Dogs! Corruptions! Lasers! and Guns?
I've spent around about two and a half months on this thing, and I think it turned out pretty great. However, this isn't the final version of this mod compilation. So, if you have suggestions on what to add to this compilation, please tell me!
Also, instructions on how to control/activate all fun events are shown in the in-game manual. Just boot up the game and you'll see.

Credits and Stuff
This mod compilation was made by Agentalex9 (Me!)
Deltarune is by Toby Fox.
'UndertaleModTool' by krzys-h, Kneesnap, colinator27 & BreakinBenny (Used to make this mod)
Some sprites and music in this mod are from 'Escaped Chasm' by Temmie Chang.
Changelog
(V1.02)

Added new page to fun manual (How to get around without having to play through the entire game)
Added new ending cutscene

(V1.00)
Anyway, enjoy the mod and stuff!

Install instructions
[1.] Find your DELTARUNE installation dictionary.
(By default, it's in C:\Program Files (x86)\SURVEY_PROGRAM)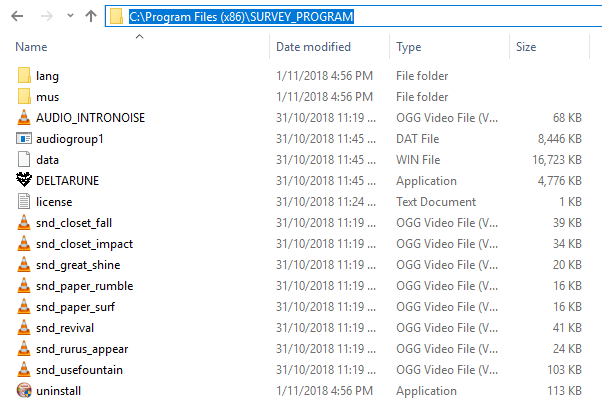 (These instructions are meant for the Windows version of Deltarune, but it should be a similar process on Mac OS. However, I don't know where Deltarune is installed on Mac OS.)
[2.] Make a backup/copy of this dictionary so that you can revert later.
[3.] Click and drag the files from the 'SURVERY_PROGRAM' folder inside the .zip into the installation dictionary (not the backup one). Replace all files.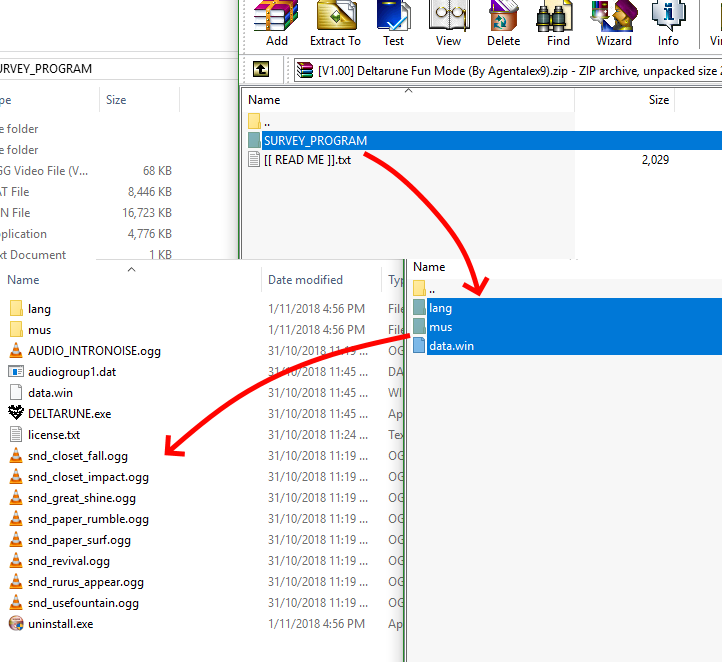 [4.] Aaannnd that's hopefully it!
(These instructions are also included in the "[[ READ ME ]].txt" included in the zip.)
Download
Download
[V1.02] Deltarune Fun Mode (By Agentalex9).zip
24 MB
Comments
Log in with itch.io to leave a comment.
Anyone else have a problem with your computer deleting Itch.io downloads as soon as they finish downloading?
Is it possible to add your own mods to this because i want to add the jevil is everywhere mod too. Get to me as soon as you can. Thank you.
You can't combine normal mods (i.e. mods that use the 'data.win' file) with Deltarune Fun Mode. However, scripts from UndertaleModTool (including the 'Jevil is Everywhere' one) will work, though some scripts could cause conflicts. The Jevil is Everywhere mod seems to work perfectly well with Deltarune Fun Mode.
I tried doing all you showed on my MacBook and pressed F1 for the instructions but all it did was change the brightness. I tried Shift, fn, control and command as I'm not really fond with Macs and I'm mostly used to Windows. I need help, please. ;-;
I never actually tested whether this mod worked on the MacOS version of Deltarune, I kinda assumed that it would work.
So you can either try it on Windows instead, or if that isn't possible, try using Wine to run the Windows version on MacOS: